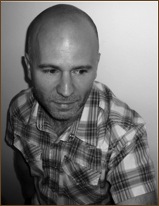 Started out
1989 as a songwriter and one of the members in the swedish pop band Neopop, multiple number one charts hits in Sweden. 1994 writes tracks for the swedish rappers Goldmind. At the same time starts a collaboration with Egmont writing and producing records for kids. First project Tippen was a big show and succes for kids in Sweden. 1996 also writes a christmas record for the same show. 1997 gets a Grammy Award for best childrens record (Morgan and Lasses sopresa).1999 writes soundtracks for the Swedish successful movie Tsatsiki morsan och polisen. A second Grammy nomination for best childrens record in 2000 with Slam.
At 2002 starts to produce tracks for the swedish girlband Emma´s first and second album.
2002 Writes and produces music at the Royal Dramatic Theater for a theater piece called Magisk Jul. Also in 2002 Writes Fakin lovin me for the swedish singer Jill Johnsson.
2003 Signed a publishing deal with Windswept Pacific/Berkely Square. Writes number one billboard hit Save my soul for US Club Queen Kristin W (Tommy Boy). Writes Holiday from love for new UK artist Maria Willson (Telstar) and also writes continously with writing legend Nikki Chinn (Ballroom Blitz). At the same time Produces album for Swedish tv-hostess Josefine Sundström and writes songs for the swedish boyband Sensitive. Writes the German Popstars Preluders track Girls in the house wich is the title-track of the album. Moved with co-writer Niklas Pettersson to London and started a collaboration with David Howels and Darah Music, stayed there for one and a half year.
In 2004 starts a collaboration with Carl Rydén for own artist Fiona Florczak. Also gets cut on toyband Bratz with Rock the world and I don't care. Rock the world is also included in toybox for the doll Yasmine. Writes with Jessica & Lisa from the Veronicas the single track Worlds apart for the Tv-based Dutch girlband Bad Candy.
2005-2006 Writes and releases Mercy on me, Highlife on one phat diva. Writes and releases Let everything drop and Tidal Flow for own project Third Member on Stoneyboy. Anthony from former boyband Blue, records Half a world away. Writes For love for swedish Idol winner Agnes. Start a collaboration with swedish rapp dou Grand Prix. Own project Starclub releases first single Chiki chiki feat' Alibi.
2007 Producing swedish artist Mats Westling's album. Starts a collaboration with the Swedish artist Magnus Bäcklund. My publishing deal with Windswept Pacific/Berkely Square comes to an end and finaly I was free to do song by song deals and write music in my own way.
2008 Starting a collaboration with swedish rapp duo "Medina". Write and produce for swedish artist "Daisy" signed "Robbins Entertainment" first track "Everytime" is to be released sometime this year.